Por:
Jimmy Anastacio
janastacio86@gmail.com
El pasado 29 de octubre, la Comisión Europea, advirtió a Ecuador de que corre el riesgo de ser identificado como país no cooperante en la lucha contra la pesca ilegal, no declarada y no reglamentada (INDNR), un proceso denominado "tarjeta amarilla", y que se deriva de la política comunitaria para prevenir, desalentar y erradicar la pesca INDNR, según lo establece el Reglamento 1005 de la UE en vigor desde 2010. [1]
La notificación representa un contundente llamado de atención al Estado ecuatoriano, especialmente a la Autoridad Pesquera, con especial énfasis en la necesidad de actualizar el marco jurídico de acuerdo con la normativa internacional y regional y de procedimientos administrativos eficientes y efectivos para desalentar la pesca INDNR y sancionar el incumplimiento del ordenamiento, así como en la necesidad de contar con un sistema de trazabilidad fiable que certifique la legalidad de la pesca.
Es importante mencionar que esta situación pudo ser prevenida, considerando que la UE desde el año 2014 viene dialogando con el Gobierno del Ecuador y realizando auditorías periódicas de las que se desprendieron observaciones a la problemática, las cuales luego de 5 años no tuvieron mejoras sustanciales, por lo que la UE consideró la necesidad de advertir al país para que tome correctivos necesarios.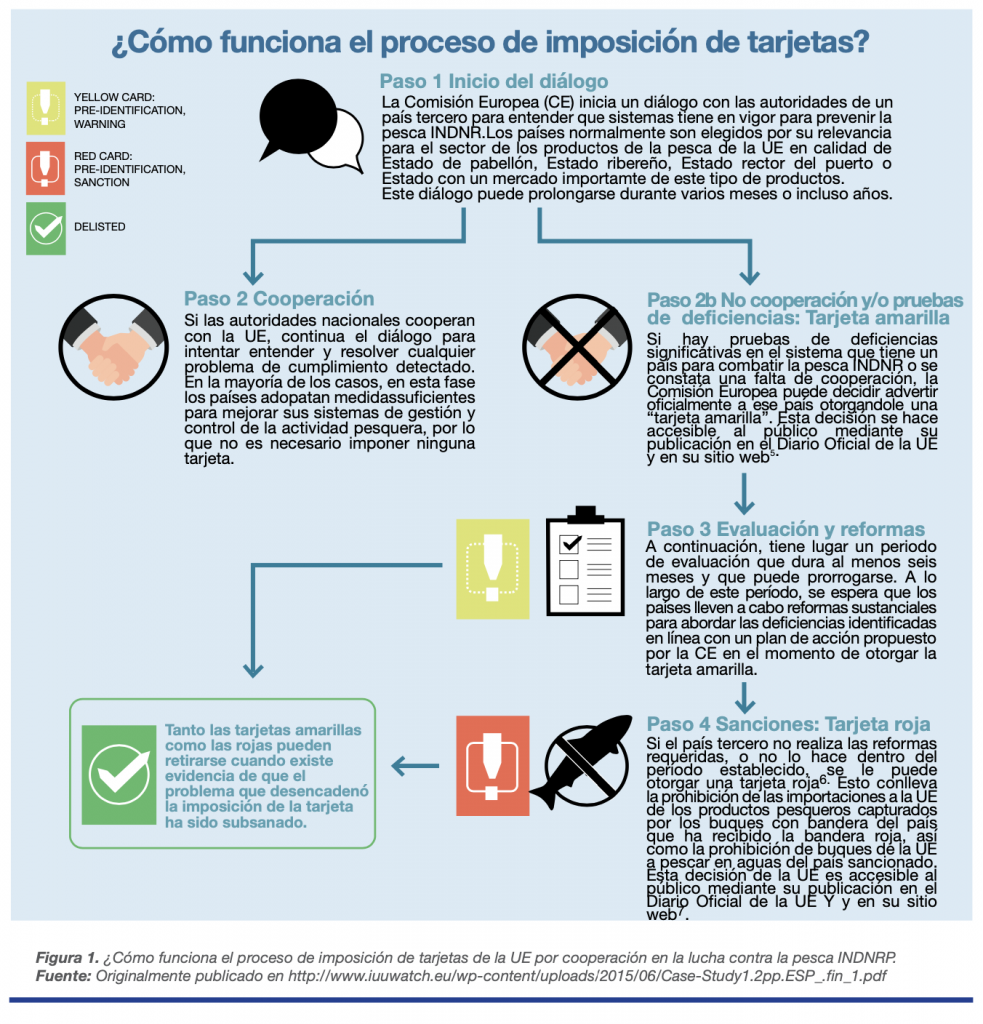 La advertencia denominada "tarjeta amarilla" o "identificación previa" implica que, al cabo del plazo de 6 meses desde la notificación, la Comisión Europea vuelva a evaluar si la Administración Pesquera del Ecuador ha realizado los avances suficientes como para resolver los problemas identificados. En caso de que los mismos sean resueltos plenamente, la advertencia será retirada o en caso contrario podrían suceder dos escenarios: que se demuestre avances, pero no suficientes, en cuyo caso empezaría a correr un nuevo plazo de seis meses para una nueva auditoría, o que los avances sean inexistentes o casi nulos, en cuyo caso el Ecuador podría ser notificado definitivamente con la "tarjeta roja" como "no cooperante en la lucha contra la pesca INDNR", lo cual implicaría la prohibición total de las importaciones de productos pesqueros a la UE.
En el año 2018, un total de $766 millones en productos pesqueros fueron exportados a la UE (48% de las exportaciones pesqueras totales). De este rubro, $717 millones corresponden a preparaciones y conservas de atún, producto que destina el 60% de sus exportaciones hacia este mercado.

Definitivamente, las afectaciones en materia comercial asociados a la advertencia realizada por la UE recaen sobre las exportaciones de atún, uno de los 3 principales rubros que sostienen la canasta de exportaciones no petroleras del Ecuador.
Si bien la tarjeta amarilla no implica sanciones comerciales formales por parte de la UE, en el ámbito comercial se verán impactos si no se revoca en el corto plazo, esto dado a políticas de compra de los clientes en la UE. Por ejemplo: Tailandia, el principal productor y exportador de atún en el mundo fue notificado por la UE con tarjeta amarilla en abril de 2015 y un año después de la notificación, la reducción de importaciones hacia ese mercado fue de -12%. La tarjeta amarilla para Tailandia fue revocada recién en enero del 2019, lo cual luego de 4 años (y una inversión gubernamental de más de 87 millones de euros[2]) le dejó una contracción de sus exportaciones hacia este mercado del 50%. ii) Filipinas, advertido en junio de 2014 registró un 11% de contracción de exportaciones en un año, luego de que la tarjeta amarilla fuera revocada en abril de 2015.[3]
Desde su vigencia en 2010, el Reglamento de la UE contra la pesca INDNR advirtió a 26 países con tarjeta amarilla, de los cuales 13 trabajaron para revocarla y 7 se encuentran aún advertidos (Vietnam, Trinidad y Tobago, St Kitts and Nevis, Sierra Leona, Liberia, Kiribati y Ecuador). Otros 6 países fueron identificados con tarjeta roja, de estos 3 lograron revocarla (Belize, Guinea, Sri Lanka) y 3 aún la mantienen (Cambodia, Comoros y St Vincent and Grenadines).[4]
Los procesos de revocatoria de tarjeta amarilla históricamente no se han logrado en menos de 1 o 2 años, tales fueron los casos de Filipinas, Papua Nueva Guinea, Ghana, Panamá, entre otros, o incluso casi 4 años como el caso de Tailandia y Taiwán. Sin embargo, cabe anotar que cada uno de ellos tuvo circunstancias y particularidades diferentes.
Durante los últimos años el Ejecutivo ha invitado al sector privado a invertir en el país y creer en las oportunidades que brinda el clima de negocio. Sin embargo, parte del clima de negocios también radica en la fortaleza de las instituciones gubernamentales que rigen al sector. En tal sentido, la Autoridad Pesquera del Ecuador tiene el gran desafío de lograr que la tarjeta sea revocada a finales del primer trimestre del 2020. El tiempo para las medias tintas en las reformas legales, institucionales y en la modernización en general de la administración pesquera del Ecuador no tienen más cabida, se requiere que el Gobierno del Ecuador invierta en estructurar una Autoridad Pesquera con los suficientes recursos y capacidades para garantizar las actividades de monitoreo, control y fiscalización de la legalidad de la pesca que se procesa en el país, tanto nacional como extranjera, en un sector que le genera más de $1600 millones en divisas por año (12% de las exportaciones no petroleras).
Parte importante de revocar la tarjeta amarilla se encuentra en el trabajo que la Asamblea Nacional realice para tramitar con la debida importancia y calidad técnica la nueva Ley de Pesca y Acuicultura, actualmente en debate en la Comisión de Soberanía Alimentaria. Sin embargo, la propia ley no será suficiente para obtener cambios si no se estructura una autoridad pesquera técnica, transparente y con suficientes recursos para controlar y fiscalizar.
El uso de la gran variedad de herramientas tecnológicas hoy disponibles en el mundo en cuanto a trazabilidad en cadenas de suministro, que brinde mayor transparencia, información, agilidad y confianza respecto a los controles que se realizan, debe ser una de las prioridades para resolver esta problemática, lo cual servirá para darle al mercado las garantías que demanda.
El trabajo público-privado para resolver esta problemática ha iniciado. Los gremios Cámara Nacional de Pesquería, Cámara Ecuatoriana de Industriales y Procesadores Atuneros y Asociación de Atuneros del Ecuador, han establecido agendas de trabajo conjuntas con el Gobierno, sin embargo, el rol decisivo en la implementación de los cambios estructurales que el mercado demanda se encuentra bajo la responsabilidad del Gobierno del Ecuador, como autoridad de control.
Por su parte el sector privado ha realizado diversos esfuerzos para implementar procesos de certificación de sostenibilidad acorde a las demandas del mercado, tales como el financiamiento de proyectos de mejoramiento pesquera (FIPs) en pesquerías de atún, dorado y pelágicos pequeños que apuntan a procesos de ecoetiquetado que demanda sistemas de manejo y control eficientes para luchar contra la pesca ilegal, entre otros. De igual forma, el protocolo SEA (Sostenibilidad Ecuatoriana Atunera) impulsado por la industria procesadora atunera junto al Gobierno del Ecuador para convertirlo en una marca país para el sector atunero, incluye disposiciones en cuanto a trazabilidad.
En efecto, la situación actual del Ecuador en el mercado de la UE debe ser atendida al más alto nivel gubernamental para recuperar la confianza de la UE mostrando con acciones su capacidad de prevenir y desalentar la pesca y procesamiento ilegal. No se puede hipotecar el trabajo de décadas del sector pesquero y las más de 24 mil familias que dependen directamente de la cadena productiva del atún y a las más de 100 mil que dependen de la pesca en general.
---
[1] https://ec.europa.eu/commission/presscorner/detail/es/QANDA_19_6037
[2] https://g8fip1kplyr33r3krz5b97d1-wpengine.netdna-ssl.com/wp-content/uploads/2018/10/Infographic_Thai-fisheries_Politico_September-2018.pdf
[3] Mundy, V. (2018). The impact of the EU IUU Regulation on seafood trade flows: Identification of intra-EU shifts in import trends related to the catch certification scheme and third country carding process. Environmental Justice Foundation, Oceana, The Pew Charitable Trusts, WWF. Brussels, Belgium
[4] Listado completo de países notificados por la UE https://ec.europa.eu/fisheries/sites/fisheries/files/illegal-fishing-overview-of-existing-procedures-third-countries_en.pdf
---